Holy moly! How are we already nearly halfway through 2016?? The sun has been shinning and it looks like summer's here early!
Taking a look back at May:
Up my yoga practice to twice a week – not quite up to twice a week yet 🙁 but I am still going once a week and it has been a-maz-ing! I went to yoga yesterday at One Yoga Victoria and Katie (Domestikatie) was teaching – it was an amazing class with just the kind of flow I was looking for. She asked me how my practice has been going. I was being a bit tough on myself about how it is only once a week right now. She reminded me to be gentle with myself and appreciate the one class a week I am treating myself to.  Once a week is definitely better than nothing at all.
Focus on healthier meals at home – This is definitely an ongoing goal for me as I get more practiced and well versed at organizing healthy meals. I picked myself up a book of 200 vegan slow cooker recipes which I think is pretty darn exciting. I tested one vegan lentil soup recipe and it was not too bad. I find using the slow cooker super easy and a great way to save time and eat healthy during the week – especially between all our activities.  Some of my favourite healthy meals are soup, sushi, fish, salads with tons of ingredients, and tacos.
Focus on stretching to regain the mobility and flexibility I used to have – This has made a noticeable difference for me.  When I stretch if I take the time to hold the stretches for 2-4 minutes I can really feel a release in the deeper muscles and I don't just tighten back up when I release the stretch. I am getting much better at staying in a stretch, breathing, and not fidgeting or wiggling too much. If I find I don't have a ton of time there are a couple stretches I make sure to get in: pigeon stretch, couch stretch, and forward fold to stretch out my hamstrings. I have also been making time to get my lets up the wall for at least 10-15 minutes following every run/workout.  This is to help with flushing the legs as well as help my circulation and try to slow down the progression of my varicose veins.
Work towards getting fit to race the MEC race (10k) at the end of June – My workouts have been going pretty great and I think I will be racing this. I know it will not be close to a PB but I am wanting to participate in it to practice racing.  I have a pattern of having a really negative head space during races which (obviously) takes away from how much I enjoy it.  By signing up for races that are not goal races gives me space to practice different techniques.
Complete another longer hike with a weighted pack – we went out and hiked East Sooke Park again and did the whole trail end to end.

We picked up the pace and managed to hike 12km in 5 hours (including1/2 hour for lunch).

It was a gorgeous hike and I am seriously looking forward to our multi-day trip in July!
What I hope to accomplish in the month of June:
Run in the MEC 10km race June 26th – while I am not at the same fitness level I was when I race a 10km last year (44:44) I plan to race it as a tempo run and practice the mental components to racing: staying positive and upbeat, using my mantras when the race gets tough, check ins to correct/maintain form, and remembering that I am running because I love too 🙂
Try out three new recipes – this just supports my desire to get better at cooking and a focus on healthier, home cooked meals more regularly.
Complete a ride of at least 20km – I want to get out and do a long ride through the farm land…ideally with a fruit stand as a destination to pick up some local produce 🙂
Increase my weights at the gym – I am feeling very close to being able to step up to the next free weight size for most of my exercises.  The feeling of getting stronger and having more defined muscles is really motivating.  Increasing my strength through theses exercises will not only help with running but also on my mat.
Read three books – I know I had this as a goal a couple of months ago but I have gotten off the reading wagon again.  Pretty sure making it a goal will help make it a priority again – plus I picked up a couple new books at Russell Books last week.
What else has been going on?
With the amazing weather we've been having, I have been loving getting outside and being active! After a month of shopping around, I finally bit the bullet, committed to buying a bike, and got to bring her home on Saturday 🙂
I picked her out at Trek Victoria and the staff were super helpful! I've already been out quite a bit commuting to and from work and other appointments.  Definitely something to get used to as it does ride a bit different from a mountain bike. It is super smooth and almost effortless riding.  I am so excited to get out on some longer rides but I do need to ease myself into it – already have a pretty sore bum! I just need to take her in to swap out the handle bars this week and get a proper fitting.  Only thing missing is a name….
As some of you know, June is Pride Month and Converse released a few pairs of sweet limited edition shoes to commemorate. Our local shop sold out in mere days!
Two of the styles hit our shop low tops in white and a high top in black each with the speckled paint pattern. So cute right? Regrettably, I did not splurge but do look forward to seeing them out at pride events later this month. There are still some available on the Converse site if you are in the US or a few other countries they just don't ship to Canada 🙁
Finding Dory will be finally be in theatres June 17th which is pretty exciting – especially having young nieces that gives me a totally legit reason to go see it in theatre!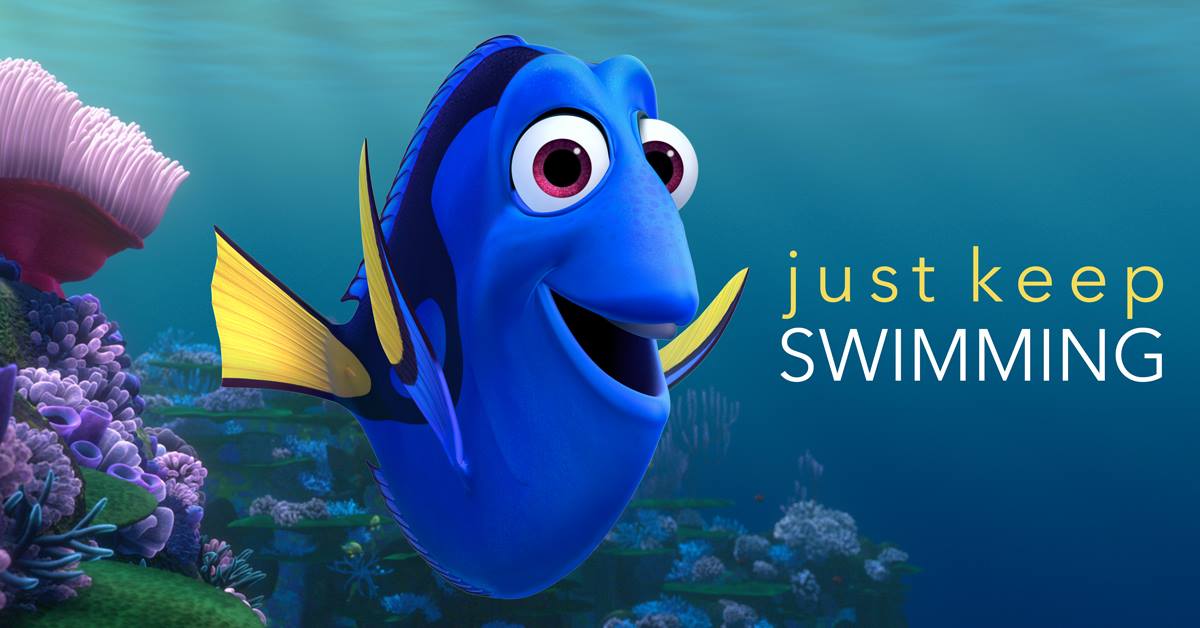 Can you believe Finding Nemo came out 13 years ago!?!?
And a good reminder:
What goals do you have set for June (the summer)?
Have you completed a multi-day hike?
What's your fave kids movie?